Title: The Dinner List
Author: Rebecca Serle
Genre: Romance, magical realism
Rating:4 stars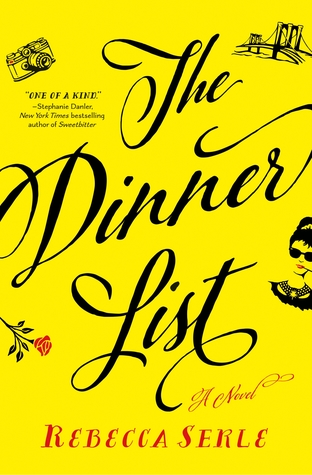 Sabrina was once asked by her best friend Jessica the five people, living or dead, she would invite to a fictitious dinner. Sabrina chose her estranged father, her former philosophy professor, Jessica, Audrey Hepburn and the love of her life Tobias. On her thirtieth birthday, she finds them present at her birthday dinner. The entire novel takes place in one night filled with captivating dinner conversation about Sabrina's past , present and future.
The blurb on the cover says "one-of-a-kind" and I think that's the best way to describe The Dinner List.
Staggering writing and unique storyline combine to make this special book. As much as I love happily-ever-afters, I also love it when the author shows the complexity, unpredictability and the imperfect nature of life, as is the case in the book.
The book narrated a sad story which nonetheless left me content and gave quite a few things to learn.
Throughout the plot, the spotlight is on (mostly)Sabrina and Tobias. The main characters weren't that memorable, they were imperfect (who isn't?) and they came off as...pretty normal, which was probably intentional. The other characters at the dinner table added flavour to the novel, despite being minor characters.
The writing was very smart, the author uses interesting comparisons which are striking and accurate.
The narrative was engaging and kept me hooked to the story from page one to the last. The chapters were crisp, riveting, very easy to read.
Bonus: they had some powerful lines in them.
The pacing of the story was perfect.
The plot was very simple with complex themes like relationships and life decisions. As much as I stan a happy ending, things working perfectly at the end, events in this novel kept me grounded. I believe that life isn't perfect, they are full of tough decisions, making mistakes and learning from them. Sabrina and Tobias expected things to be perfect like in the movies they loved, but Sabrina realized that, sadly, it is not so.
Our narrator experiences friends drifting away, torn between what she wants to do and needs to do-all very relatable.
The plot was realistic and sobering.
Like I mentioned a hundred times before, the story has a sad ending.
My favourite part: she forgives people she has to, accepts that life has to go on. For some reason, it gave me so much hope and satisfaction.
The book was wistful and liberating at the same time.
I recommend the book to everyone to take from it what it has to give.
Here are some lines I loved from the book:
"You cannot have good without evil," Audrey says. "They are like DNA strands. Intricately and irrevocably spun together. Sometimes good wins, sometimes evil does. We do not fight for good's permanent triumph, but for the balance. And so it goes."
"But in the best relationships, that's the point," Jessica says. "You don't try and make each other weaker. You're not supposed to have to choose. You support each other
"She had this sense it was just supposed to work, and you weren't supposed to have to work for it," Jessica says. "Like their love story was so epic the day-to-day didn't matter. But that's what relationships are. They're the day-to-day."
Some submissions were spectacular, but we couldn't publish everything, and more often than not the savvy writer, the celebrity, the one with the Twitter following and well-curated Instagram presence was the one we signed.
How am I going to tell him there isn't, that I can't? That life isn't like the movies we loved but something infinitely more complex?